Newspaper is a Blogger theme that lets you write articles and blog posts with ease. We offer great support and friendly help!Create a great news website with our Newspaper Template. This bestseller theme is perfect for blogging and excellent for a news, newspaper, magazine, publishing or review site. It supports videos from YouTube. AMP and mobile ready. GDPR compliant, the theme is fast, simple, and easy to use for a cryptocurrency, fashion, food, lifestyle, modern, personal, travel, luxury, viral, minimal, minimalist projects and more.
For the second time in less than a year, we are excited to introduce you to the next generation theme that enhances the way you create your website. After the implementation of the landing page elements in Newspaper 8.5, we have turned our attention to articles. For us, Theme is a cornerstone update. Why?
Because we are now entering into a new age for news websites. There's no need to tenuously spend hours coding any change to your articles. You can quickly do it right on the frontend, directly from the tagDiv Composer page builder. newspaper makes you more productive and more creative. It helps you create and design your project faster and easier than ever before.
What's new In Newspaer 9 Premium Temaplate
420+ handcrafted elements are waiting for you in the tagDiv Cloud Library. More than an extensive collection of shortcodes, the library is the core of your new creative inspiration. Try it and say hello to the new you – the skillful web designer.
Flexibility is no longer about homepages. With Newspaper , all the templates like single posts, categories, author, contact us, tags are now customizable. Directly from the tagDiv Composer and right on the frontend! Take it for a test drive.
10 brand-new category in this template
With the beautiful templates in tagDiv Cloud Library, shaping each category of your website is a child's play. Edit the layout, the featured images, fonts, colors, everything. All the templates use an enhanced posts loop that allows you to display the articles precisely the way you like it. Build spectacular category pages!
24 New Fancy Footers in This Template
The footer is an essential part of the website design. Start paying attention to it. Dozens of delightful footer templates ensure you have the right balance of information, design, and usability. Minimal or complex footer designs, you can now customize each pixel to get the most of every page in your project.
5 shapes for Flex Block Premium Template
Power up your website with Theme and 5 variations of Flex Block. Now, the sky's the limit! You can create any online content design you like, or you can imagine. We've put them to work and created 84 pre-built templates you can easily import on posts and pages from tagDiv Cloud Library. You'll love them: dazzling design, advanced filters, responsive editing, fully customizable, and no CSS to code!
Explore this Premium Blogger Template
Of course, we didn't neglect the rest of the Blogger standard templates. Take a look at the masterfully designed search page, attachment, date/archive, and tag page template. All the templates are waiting for you neatly organized in the Cloud Library.
Enter the tagDiv Composer to make any further adjustments to your templates. Change the font families and styling, drag and drop more elements to your page. The frontend page builder is your playground and designing can be your conquest/ main quest. The result? A beautiful page or post for your audience to enjoy.
3 New Professionally Demos
Fast start your website with unique Demos! Explore the new Nomad, Racing and Home Decor Demos. Crafted with love by our designers, both are ready to help you create an engaging website in no time. Each demo is built with tagDiv Composer page builder using templates from the tagDiv Cloud Library. You can import the demo you love and easily customize everything: from colors, elements, layouts to page structures and everything in between.
Introducing the Header Builder
The header has always been one of the most important parts of your website for obvious reasons. From here you start to create your brand, and this is also the first thing that should make a strong impression on your visitors. template is an essential update because it brings you a new functionality that helps you create amazing websites for your audience without touching a single line of code.
For the first time, it's surprisingly easy to create awesome logos, add elements, and customize everything on your header, right on the frontend. With Newspaper Theme, you can now design unique experiences for your visitors on every page.
Ten beautiful elements like logo, menu, login, live search, categories list, date, and weather are ready for you to use. Combine them precisely the way you like into your perfect header. Take the tour of the powerful Header Manager and explore this feature.
30+ New Designs you'll fall in love with
You can stop thinking of logos, identifiers, and ads. Start quickly with a header layout designed for your needs. Enjoy the pleasure of using beautiful headers specially built for branding.
To make everything even more accessible, our team of designers created dozens of predefined header templates you can import with a single click and each one is automatically assigned on the page you're editing. Over 30+ handcrafted header templates are waiting for you in the tagDiv Cloud Library. Whatever you plan for your header, with Newspaper everything is perfectly balanced!
Customize
Design a minimalistic header to impress the audience, all without any coding skills. Yes! This is the power of Newspaper Theme. Each element of your header is now fully customizable, and you choose what items you want on your header. Even more, for each component of the header, you can alter its appearance with ease, right on the front end with tagDiv Composer page builder. It's Magic!
Integrated Logo Design
How should your website's logo look like? Is it an image or text? Centered, oversized, or it might be aligned to the right? Great! Newspaper Theme gives you all the tools to design and seamlessly integrate your logo into the header.
All the power of the tagDiv Composer front end page builder is now working for your headers, too, and helps you design logos like a professional designer. From pixel perfect alignment and taglines, endless colors and gradients, to custom typography, you have infinite possibilities to create a logo that fits your website like a glove. Read more about this feature in a dedicated article on our blog.
New Header Main Menu
With unique headers for your every page, you can redesign the main menu from the ground up. The Newspaper Theme brings you the power of the tagDiv Composer through an intuitive interface to enhance the navigation on your website.
For the first time, you can create different menus to serve various pages. Choose which items you want for your main menu and add them. Now, Newspaper Theme helps you create navigation with categories, pages, links, posts, and subcategories. You have all the tools you need to guide your visitors smoothly through your website's architecture.
Also, we've added options to customize the style of your navigation bar without hassle. The versatility you love in the Flex Block is available for your menus, too. Explore this feature here.
Slick Designs for mobiles
Stop cramming the header's desktop version into mobile screens! The Newspaper Theme brings you options to create different versions of each header for specific devices. Drag and drop the desired elements right on the frontend and test your header in real conditions with a few clicks.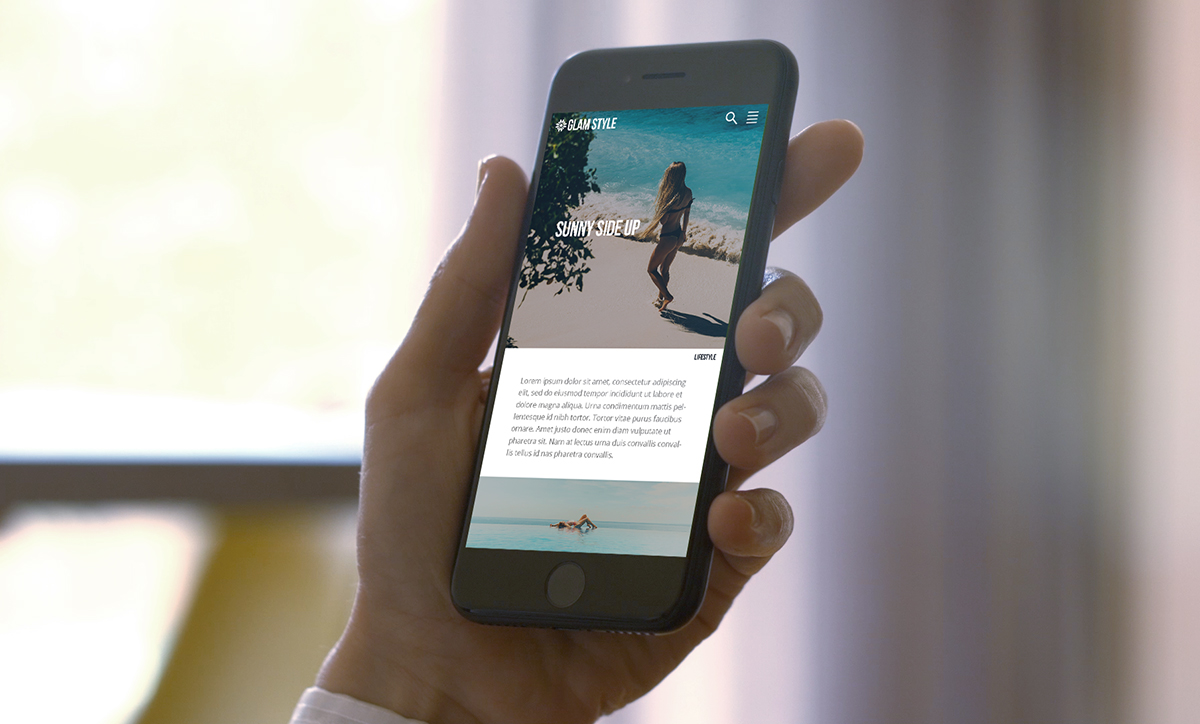 Ready to be used globally on the site, you can choose which content to be loaded next. Use older or newer posts, or even posts from the same category and provide great user experiences on your site.
Gutenberg Compatibility
Another fantastic news about the functionalities of Theme 9.5 is related to the Gutenberg compatibility. As you all know, it was compatible with Blogger 5.0 right from the start. In this update, we've improved the integration between our theme and Blogger 5.0.3 to give you a delightful journey.
In Newspaper Theme, the Gutenberg editor is now matching the frontend output, indeed becoming 'what you see is what you get.' This also includes the used fonts and dynamic styles coming from theme settings. Moreover, it brings you support for the .alignwide and .alignfull classes for wide-images to help you create your beautiful content easier.
So, what's the next step for you? See the features of the Newspaper Theme or the full list of changes.
Update your theme to get access to the new features and options. You'll find all the instructions on how to update here. We hope you'll enjoy using the Newspaper Theme on your website!
Newspaper 9 Premium Blogger Template Features
Newspaper is the #1 Selling News Blogger Theme on the market, with 92,000+ customers and full Five Stars item rating based on over 6,000 website owners' feedback. Bloggers, vloggers, journalists, business professionals, both beginners and advanced users from the whole world trust the Newspaper Theme to create their perfect online website.
Designed to be simple and easy-to-use, Newspaper Theme is packed with powerful features that help you start your website in minutes.
So, what makes it a must-have for so many people? The theme is the only tool you'll need to build a website on Blogger. The users agree that it's extremely versatile and allows them to quickly create countless unique sites.
Newspaper Theme is powered by one of the easiest to use and flexible frontend page builder – the tagDiv Composer. All the options you'll ever need are neatly organized to give you all the power to make the dreams become real.
Below we've selected some of the Blog Theme features. The list may be long, but so are the reasons to buy Newspaper 
The main features of the theme
Newspaper 9 Blogger Template Features
Best selling Blog, News, and Magazine theme for more than 6 years
A clean and modern theme, perfect for both magazines and business websites
Multipurpose features that can be easily adapted to any website design and layout
Packed with premium and intuitive features
Responsive and Retina Ready, Ultra-High Resolution Graphics layouts
Flexible to the core
Optimized for mobile
Blogger and Gutenberg Optimized
Over 92,000 happy customers trust the Newspaper Theme
AMP ready
GDPR Compliant
Integrated with Instagram, bbPress Forum, BuddyPress, and WooCommerce
Uses the best clean SEO practices
Easy to monetize with – supports responsive Google Ads, AdSense, and banner ads
Compatible with the WPML plugin and others that are popular
No coding skills required
Always compatible with the latest Blogger versions
tagDiv Cloud Library plugin – 1000+ pre-made design templates for posts and pages that are customizable on the front end. Access the tagDiv Cloud Library now
Premium widgets such as Weather, Social Counter, Exchange or Newsletter
Built-in Translation Panel with 90+ language translations
Built with HTML5 and CSS3
100% SEO Optimized and fully compatible with dedicated Plugins, like Yoast SEO
Strictly following the Blogger and PHP coding standards
Performance enhancements for fast, reliable, quality websites
Cross-Browser Compatibility: FireFox, Safari, Chrome, IE9, IE10, IE11
Unlimited sidebars
Child Theme Compatible – Your Newspaper Theme package includes a pre-built child theme
Special filtering options for the Flex Block shortcodes – The Flex blocks give you unbelievable power to display content on categories and single posts. Filter the content and to display it sorted by awesome criteria as "Most Commented," "Last Updated Content", "Popular (last seven days)", "Highest Rated" and more. Easily combine your content to stun your audience. It's simple and versatile, just as you requested!
Complete control over typography
Focused on usability and overall user-experience
jQuery Enhancements for your website
JavaScript files are automatically combined and minified for added performance
Newspaper theme includes the Font Awesome icon set
Compatible with Many Popular Plugins like WPML, Yoast, Contact Form 7, JetPack, Slider Revolution, WooCommerce, bbPress, BuddyPress, WP super cache, WP GDPR Compliance, Orbit Fox, and HubSpot All-In-One Marketing
Right-click extra settings (Copy paste functions on the frontend page builder)
Live search with Ajax and up & down key navigation
Custom BBPress styling + custom login system – you can now build a community with ease.
Custom auto scaling content blocks – any block changes its structure to work perfectly (in the sidebar, full width or pages with sidebar)
Responsive Google AdSense support
Responsive ads support – for ad networks that allow multiple ad spots on the same div or if you want to show your ads on different devices. This option will change the ad spot on the fly, for example, when a tablet is changed from landscape to portrait. (the header banner from the demo site is using this system)
Inline Google AdSense or other ads after a predefined number of paragraphs
Auto YouTube, Dailymotion, and Vimeo thumb downloader – just paste a YouTube URL, and the site will automatically download the largest image available from the clip, and it will set it as a featured image. Very easy to add videos to articles.
Video duration time on the Newspaper Theme modules for video articles;
SVG support for the icon shortcode – You Icon Shortcode in the tagDiv Composer now supports custom SVG files;
Built-in review system (stars, percents, points)
SEO: Schema with rich snippet microdata for articles and reviews
Built-in translation support from our admin panel. No more .po .mo files, you just get a form with all the strings from the theme and the corresponding translations.
Google fonts – change the fonts easily from the Theme panel and tagDiv Composer.
With Newspaper Theme, you don't have to build your website from scratch. We've created over 97+ full website designs you can easily import with one click. Choose the one that's closer to your vision and start customizing it on the frontend.
Yes! It's that easy. You get a fast start using a strong foundation handcrafted by professional designers and complete your project in no time.
With the PRO demos and the Cloud tagDiv templates, you get a fast and out-of-the-box performance optimized website. You can choose what code the theme is loading on your website and import only what you need.
1000 Cloud Library elements and pre-made template designs
The time when you had a myriad of blocks with rigid functionality and created a website in weeks is over. Newspaper Theme gives you free access to the tagDiv Cloud Library – a massive collection of elements, sections, pages, and articles layouts. Everything you may want on your website is already built and ready to be imported wherever you need them.
To keep your site lightweight, tagDiv Cloud Library is not included in the theme's files. All the elements are hosted on our servers, and you can access them for FREE, import, and use what you like. That's the tagDiv legendary freedom!
Footer Builder
We're delighted to introduce a new way to create and assign footers in the Newspaper theme. Starting with the 10.3 version, you can create & import multiple footers, customize, and easily assign them to the desired pages and templates. Access the new Website Manager button inside the tagDiv Composer frontend page builder on a page, category, article or any other template.
Design multiple footers right on the frontend with tagDiv Composer page builder – Read More
Different footers on any page or template. The Footer Builder – added straight into the Newspaper theme – is a great way to customize and assign your footers.
Footer templates – 52+ pre-designed and ready to use footer templates crafted by our designers are now available for you to import from the tagDiv Cloud Library – ready to use Footers
Option to create a footer and save it for later use.
Options to customize the footer' appearance on different devices.
Easy to use assign system – The Website Manager lets you choose which footer to assign on the current page.
You can choose to have "No Footer" on any page or template.
Stunning Articles and Posts
Write, show, broadcast, and publish with style! Design your post with the tagDiv Composer page Builder, right on the frontend. Create the perfect form for all your amazing stories easily. Newspaper 10 brings you 69+ post templates you can import free with a single click. You can also design as many new layouts as you need, unlimited single templates.
We've always aimed to give you the ultimate theme, that will help you build your website without any coding skills. In the last year, we've worked intensively on the tagDiv Composer to give exactly that — a magic wand to help you create your project fast, effortlessly, without any coding skills.
The tagDiv Composer is your magic tool to create and customize everything from top to bottom, starting with your header, pages, posts, templates, elements, sections, and footer.
Premium AutoUpdate System
Updating Newspaper Theme has never been so easy. Starting with Newspaper Theme v. 10.3.1 when a theme update is available, you can install the latest version with a single click, directly from the theme panel. The system downloads the latest version from the tagDiv servers and automatically updates the theme's files and the native plugins so that you can focus on the content;
Theme Update Notifications – When an update is available, you'll see a notification in the Blogger Admin interface (wp-admin);
Newspaper theme creates auto-backup for the settings – Every time you click the Save button in the Theme Panel Save, the system creates a backup copy for the previous version. With Newspaper Theme now you can turn back time and restore the before-the-change settings;
We personally respond to all the requests that we receive and we are trying to help everyone.
this is fast
The theme is blazing fast. It's really incredible how fast the pages built with Newspaper are loading! As you know, speed is very important when building a site so we've spent a huge amount of time optimizing this theme so that Newspaper loads extremely fast.
Long time support and development
We can easily send updates to ThemeForest each time we make an improvement so with each purchase you will fund the further development of the Newspaper theme.
Small number of external scripts
You can easily add your own JavaScripts without worrying about incompatibilities between the theme and your scripts. Newspaper uses a very small number of external libraries so it's very easy to add new features to this theme.
Good coding practice and naming conventions
All the html used is HTML 5 valid and it's incredibly easy to work with.